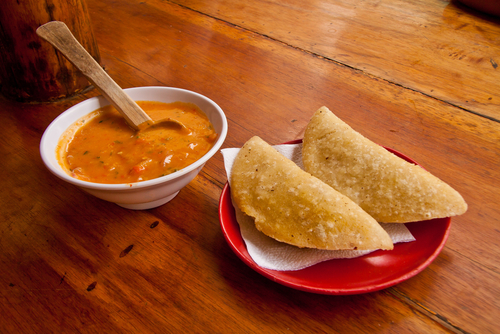 Recipe for Colombian cheese empanadas
The Colombian cheese empanadas  are the richest of all. Yes, we know they are the classic ones, but there's nothing better than savoring that mixture of warm cornmeal with melted white cheese: our mouths water! And as we know that you too, in unreceta.com we will take you step by step so that you can prepare this traditional dish and sighs of flavor.
Since we convinced you to prepare these empanadas, we invite you to take a look at this recipe for avocado sauce for arepas , which is just as good to taste with your empanadas and raise your category of delicacy to another level. You will not regret it, it is an expert advice! So let's cook some delicious Colombian cheese empanadas, the best in the world!
Ingredients
3 cups precooked cornmeal
3 cups of warm water
1 tablespoon sweet paprika
250 gr. of grated hard white cheese
30 gr. of butter
1 plastic bag
Vegetable oil for frying
Salt
Preparation of Colombian cheese empanadas
We started preparing these Colombian cheese pies making the dough. To do this you must incorporate water, salt, paprika and butter in a deep bowl. Integrate all the ingredients until you have a homogeneous mixture.
Add to the bowl the flour in two parts while you knead without stopping. It is important that you knead with your hands all the time until you get a soft dough that sticks to your fingers and that is consistent at the same time. When you have it, cover it and let it rest for 20 minutes.
After a while, uncover the dough and knead again with your hands until it softens. Then moisten the plastic bag with a little oil and spread it on the counter. Take a dollop of dough with your hands and make a ball about the size of a golf ball.
Place the ball of dough in the center of the bag and flatten it with the tips of your fingers until you get a wheel 1 cm thick. Add two tablespoons of grated white cheese to the center of the wheel and then fold the wheel in half to close the pie and give it a crescent shape.
When you have closed the empanada you will have to eliminate the excess of mass of the edges, this can do it with a cookie mold or with the edge of a glass. Then seal the edges of the pie with a fork and repeat the process until the ingredients are used up.
When you have cooked all the empanadas, add plenty of vegetable oil to a cauldron and when it is boiling, fry the cheese patties one by one until they are well browned.
The empanadas that are ready you will have to place them on a plate with absorbent paper so that they eliminate the excess of oil. When your Colombian cheese empanadas have settled and are not so hot, serve them and enjoy. They are delicious!