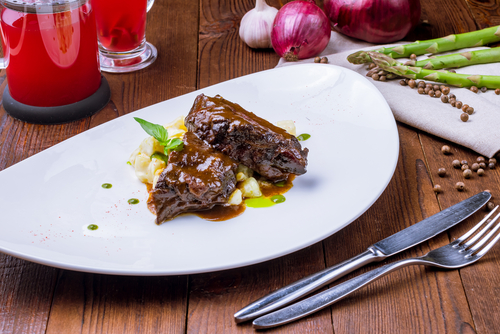 If you are looking for a meat that dissolves in your mouth when you taste it, go ahead and cook these beef cheeks in a red wine sauce that we propose today at Unareceta.com. They are ideal for special celebrations!
Serve with a Japanese style salmon tartare as a starter and a delicate mashed zucchini and leek as a garnish. As a dessert, you can bet on a brownie in the microwave that you'll have ready in fifteen minutes. You will amaze everyone with this rich combination of flavors!
Having said that, ready to start with the beef cheeks in red wine sauce? Well, get ready to work!
Ingredients
1 kg.

of beef cheeks


    

2 onions


    

4 cloves of garlic


    

2 carrots


    

1 leek


    

½ cup flour


    

1 bay leaf


    

1 glass of red wine


    

1 glass of meat broth


    

¼ teaspoon of rosemary


    

¼ teaspoon of oregano


    

¼ teaspoon of thyme


    

1/2 cup of olive oil


    

Black pepper


    

Salt
Preparation of beef cheeks in red wine sauce
1-To begin with if the cheeks are not clean, you should remove the excess fat and tendons with a sharp knife, you will see that it is very easy. If you do not like doing it, ask at the butcher shop to have them cleaned.
2-Then, sprinkle on both sides, place the flour on a plate and coat the cheeks on it.
3-Add the olive oil in a pan and when hot put the cheeks to seal for four minutes per side. Then remove them and reserve them on a plate.
4-Peel the onions, garlic and carrots and chop finely. Wash the leek, separate the white part and cut it into pieces as well.
5-In the same oil where you seized the cheeks, you will fry the onions until they are transparent, then add the garlic, leeks, carrots and cook for five minutes after mixing.
6-Next, pour the wine, stir and cook for two minutes. Once the alcohol evaporates, incorporate the cheeks, laurel, herbs, broth, lid and cook over low heat for an hour and a half.
7-After the time, remove from the heat, take the cheeks to a plate and grind the sauce in a blender or a blender. If you like it very thin you can pass it through a sieve.
8-Pour the sauce back into the casserole, rectify the salt and adjust it if necessary, then incorporate the cheeks and bring them to a boil so that the flavors are integrated. And now, serve your beef cheeks in red wine sauce with the garnish of your choice. Take advantage!
Advice for express pot:
If you have a pot of this style, the cooking will be 30 minutes.