10 Ene

Recipe of chicken with beer and onion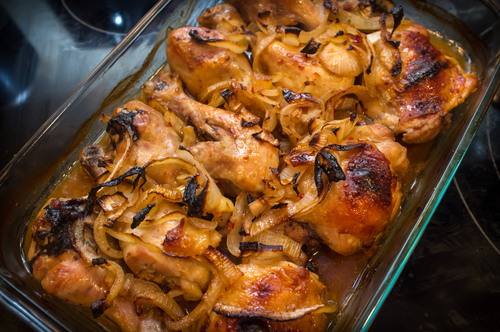 This recipe for beer chicken with onion will be totally irresistible to your palate due to the exquisite combination that results from the sofrito of onion with olive oil and the beer emulsified with chicken stock. This dish is very easy to make and its main ingredient is its delicious sauce that you will not want to stop eating.
At Unareceta.com we recommend that you accompany this chicken with delicious baked potato chips and a Russian salad with avocado. Enjoy this delicious dish and dare to cook it with us: do we start? Lets go!
Ingredients
1 kg of chicken
2 cans of beer
3 medium onions
1 clove garlic
1 cup of chicken broth
2 tablespoons of extra virgin olive oil
Black pepper
Salt
Preparation of chicken with beer and onion
Before preparing this succulent beer chicken recipe with onions we recommend that when you buy the chicken, it can be breast or thigh, ask that you cut the pieces and remove their skin.
This way you will save time when cooking and you will have perfect cuts.
The first thing you should do is season the chicken the day before with salt and pepper. If you want the chicken to have more flavor, also season with a cube of chicken and 4 tablespoons of soy sauce or English sauce. It will be delicious!
Grind the clove of garlic and reserve. Peel the 3 onions and cut them into strips. In a large, deep skillet, add the olive oil and when it is hot add the garlic and onions cut into julienne strips.
Sauté the onions over medium heat until they are yellow and transparent. Then, add the chicken, fry it on both sides for 5 minutes, remove it from the pan, place it on a plate and reserve.
Add the cup of chicken stock and the 2 cans of beer to the pan. let simmer along with the onions for at least 15 minutes with the pan covered to emulsify the mixture.
Then add the chicken again and let it cook over medium heat for at least 15 more minutes, making sure the broth does not dry out.
If you notice that the chicken is running out of juice, add 1/4 cup more chicken stock and simmer.
After the time your chicken will be ready to beer with onions, put out the fire and let it rest. Serve on each plate a portion of chicken with plenty of broth and onion. Enjoy your meal!