Recipe of Colombian empanadas baked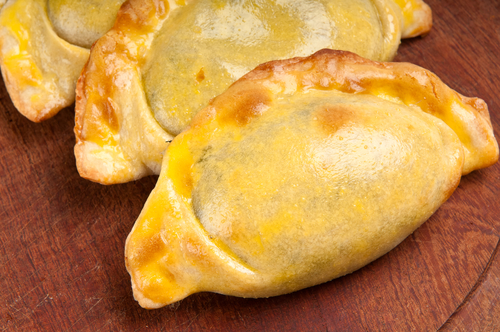 At 
Unreceta.com
 we are lovers of empanadas, and this version of 
Colombian empanadas baked
  is one of our favorites! They are so rich and crunchy that they have nothing to envy to the fries, in fact, they are much better, because they are equally tasty and much healthier. A perfect dish to pamper and care for the family! These empanadas can be filled with any contour of your choice: cheese, meat, chicken, vegetables and even a seafood stew. The really important thing is that you accompany each bite with a spoonful of this Colombian pepper sauce that is as traditional in that country as this recipe that you are going to cook today. So put on your apron we started cooking right now the best
Colombian empanadas
in the oven. Let's go there!
Ingredients
3 cups precooked cornmeal
3 cups of warm water
1 tablespoon sweet paprika
30 gr. of butter
1 plastic bag
C / n of the fill of your preference
Salt
Preparation of Colombian empanadas in the oven
We start by making the dough, for this, mix in a bowl or deep bowl the warm water, salt, paprika and butter. Mix with your hands to integrate all the ingredients and then add the flour in two parts while you knead non-stop.
Knead the preparation until you have a dough that sticks from your fingers, but that is consistent at the same time. When you have it, cover it and let it rest for 20 minutes. Preheat the oven to 200 ° C. After the time elapsed knead the dough again.
Grease the plastic bag with a little oil and spread it on a table. Take a dollop of dough and make a ball the size of a golf ball. Place the dough ball on the bag and crush it with your fingers to form a wheel 1 cm thick.
Add 2 tablespoons of the filling of your choice to the center of the wheel. It is important that you do not saturate the filling pie so it can close properly and not break during cooking.
After adding the filling, fold the dough wheel to close the pie and give it the characteristic half moon shape. Once closed, cut the excess dough at the edges with the help of a glass and seal the pie by pricking the edges with a fork.
When you have assembled all your Colombian empanadas, place them on a previously baked baking tray. Brush the empanadas with a little oil on both sides and bake for 30 minutes.
When they have passed 15 minutes of cooking, open the oven, remove the empanadas and turn them over so that they brown or both sides. If at the end of the cooking time your empanadas do not look golden, activate the broil function of the oven and bake 3 minutes on each side.
When your Colombian empanadas are ready in the oven, let them sit for 10 minutes and then serve. Take advantage!
Te puede interesar: christmas custard
UnReceta
arepa dominicana
【✓】[Colombian empanadas][2019]
UnReceta
UnReceta
15 minutos
40 minutos
55 minutos