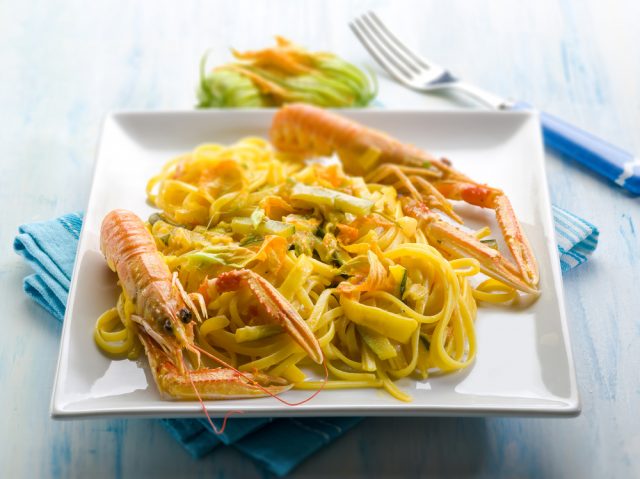 How delicious are the crayfish in seafood sauce! If you like stewed seafood, you will love this dish and the best thing is that they are so easy to make that any newbie can prepare it, as long as you follow the instructions of Unareceta.com. Bet on them, not even the crumbs will be left!
The scampi are perfect for any occasion and the best thing is that they almost do not need cooking time. If you appreciate its flavor, try these onion-coated lobsters or these baked lobsters with cava. Both preparations will be ready in record time!
Have you already decided on these crayfish in seafood sauce? So let's not waste any more time and let's start cooking them.
Ingredients
16 Norway lobster
2 large onions
4 cloves of garlic
4 ripe tomatoes
1 cup of white wine
1 cup of milk
One chilli pepper (optional)
1 teaspoon of sugar
2 slices of bread
1/4 cup of sliced almonds
4 branches of parsley
5 tablespoons of olive oil
Black pepper
Salt
Preparation of the crayfish in seafood sauce
1-To start preparing these delicious lobsters in seafood sauce, grate the tomatoes and mix them in a bowl with the sugar to remove the acidity. Reservation.
2-Peel the onion and garlic and chop them as small as you can. Do the same with the chilli pepper in case you want to include it in the recipe. On the other hand, pepper the crayfish on both sides and reserve also.
3-Add the olive oil in a pan and when it is hot place the slice of bread. When it starts to brown, add the crayfish and cook for two minutes on each side and remove them to a plate with the slice of bread.
4-Now and in the same oil where you fried the scampi, you are going to poach the onions with a pinch of salt over medium heat. If you are going to include the chilli, add it too.
5-While the onions are poached, add the garlic to a mortar and mash them together with the almonds, the slice of bread and the parsley. Reservation.
6-When the onions begin to brown, pour the wine and once the alcohol begins to evaporate add the tomato puree, milk and the mince that you previously made with the garlic. Remove and let cook for 5 minutes.
7-Rectify the salt and if the sauce has dried a lot you can add a little water. Next, add the scampi, cook for 3 more minutes and remove from the heat.
And now it's time to serve your crayfish in seafood sauce. Enjoy them!