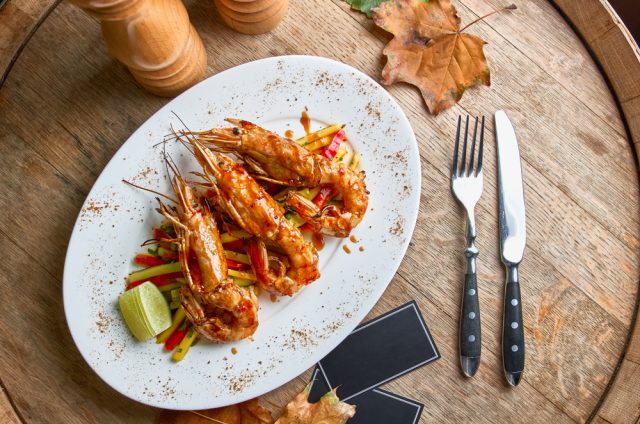 Would you like to learn how to make some lobsters sautéed with ham? It is a perfect recipe for those special occasions in which you want to surprise your guests, they also prepare themselves very quickly. Is not that great? Come on!
This seafood does not need a lot of cooking time and its flavor will never disappoint you. In Unareceta.com we invite you to try some lobsters baked with whiskey or these crayfish with onions that are also very good. You can all eat them as a starter, appetizer or main course. You decide how and when to serve them!
Gather the ingredients you'll need to cook these exquisite lobsters sautéed with ham in just 15 minutes.
Ingredients
16 medium langoustines
1 onion
3 garlic cloves
300 gr. of ham serrano
½ cup of brandy or cognac (optional)
3 tablespoons olive oil
Black pepper
A pinch of coarse salt
Preparation of sauteed crayfish with ham
1-Your first step to prepare this dish, will be to wash the crayfish well with water. If you like, you can cut off the legs and whiskers, then drain well and reserve them. Peel the onion as well as the garlic cloves and cut into small pieces.
2-Then chop the ham in medium tacos and reserve.
3-Put a large skillet on the heat and when it is hot, add the olive oil. Add the garlic and onion, salt and pepper to taste and let stand for a few minutes stirring frequently.
4-When the onions begin to brown, add the ham, give it a couple of laps and add the crayfish.
5-Let them sauté for two minutes, add the brandy and stir well. Leave to reduce over medium-low heat for a couple of minutes.
6-After the time, remove your cigalas sautéed with ham from the fire and serve them accompanied with bread or with the garnish of your preference if you are going to take them as a second course. Take advantage!