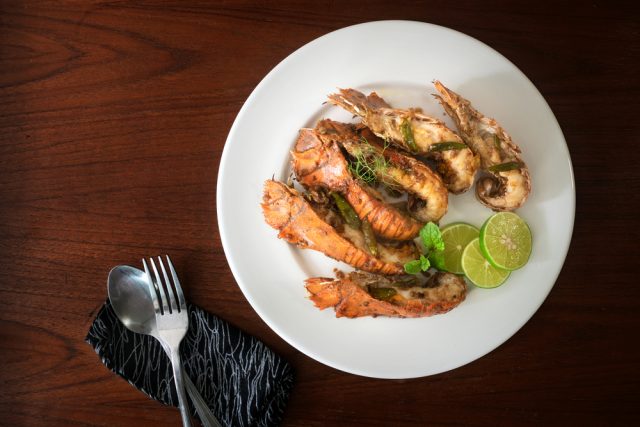 And what do you think if to vary a bit and give yourself a luxury of those that are not forgotten, prepare some onion crayfish at home? Well pay attention because in Unareceta.com we will explain how to do them in just 6 steps!
Onions are not only the soul of the kitchen, they also provide, apart from flavor, many benefits for our health when you eat it raw in a hake ceviche or cooked in a chicken in onion sauce. How you prefer it will benefit you!
Get down to work and start cooking these delicious onion-shaped crayfish. Come on!
Ingredients
1 kg. of scampi
5 onions
2 cloves of garlic
1 bay leaf
200 ml. dry white wine
Olive oil
3 tablespoons chopped fresh parsley
Ground white pepper
Salt
Preparation of the crayfish onions
1-To start with, the first thing you should do is peel the onions and cut them into thin slices. Then peel the garlic and lamínalos as thin as possible. Place the crayfish on a plate and sprinkle them.
2-Wash the parsley and chop finely. Then, add the olive oil in a large skillet and when it is hot, add the onions, the garlic and the bay leaf. Sprinkle a little salt and cook over low heat for 40 minutes with the lid on.
3-It is important that during the cooking, you remove the onions frequently so that they do not stick and burn. Once the onions have been confit and are golden brown, remove from heat and reserve.
4-Heat another pan with a drizzle of olive oil and brown the crayfish over a high heat, you will not cook them, just brown them so it will take seconds. Then remove them to a plate and add the candied onions to the same pan.
5-Next, add the white wine and when it enters boiling it incorporates the crayfish. Let cook for two minutes each side, rectify the salt and set aside the fire.
6-Serve your onions with onions immediately and decorate with chopped fresh parsley. You'll see what an exquisite flavor they have!