05 Ene

Recipe of lobsters baked with alioli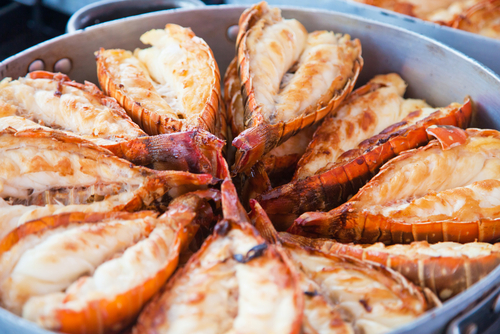 Who does not like to have a good taste especially when it comes to celebrations? For these occasions, dishes like these baked lobsters with alioli are perfect. A great result, with minimal effort. It will be worth it, you'll see!
Do you like to cook with this type of dressings? Of course yes! That's why today at Unareceta.com, we also invite you to prepare a delicious cod with tomato and aioli or some patatas bravas with aioli. Whichever you choose will delight you thanks to a combination of flavors!
Are you ready to cook some delicious lobsters baked with aioli? Let's start now!
Ingredients
1 kg. of frozen crawfish
2 cloves of garlic
1 egg
3/4 cup of sunflower oil
1/4 lemon
2 tablespoons chopped fresh parsley (optional)
Pepper to taste
Salt
Preparation of baked lobster with alioli
1-To thaw the crayfish, it is necessary that before cooking, dip them in cold water with salt. The proportion is 60 grams of salt per one liter of water.
2-When they are thawed, drain them and reserve them.
3-Then preheat the oven 180 ° C while preparing the aioli.
4-Peel the garlic and add them to the glass of the blender together with the juice of the lemon room, the egg, a pinch of pepper and half a teaspoon of salt.
5-When everything is united and crushed, pour the oil slowly in the form of a thread while stirring until the aioli is ready.
6-Cut the crayfish in half with the help of a scissors and salt pepper.
7-Add a drizzle of olive oil to a skillet and when hot cook the seafood for a minute on the side of the shell
Then, remove them from the heat and place them in a tray suitable for the oven.
8-Cover with the aioli and cook on the top of the oven with the grill on for 5 minutes until golden brown.
9-If you like when you serve your lobsters baked with aioli, you can decorate with a little chopped fresh parsley.
Our trick:
If you do not want the aioli garlic piquen, pass them by boiling water for 2 minutes, this way you will eliminate their itching without losing the flavor.