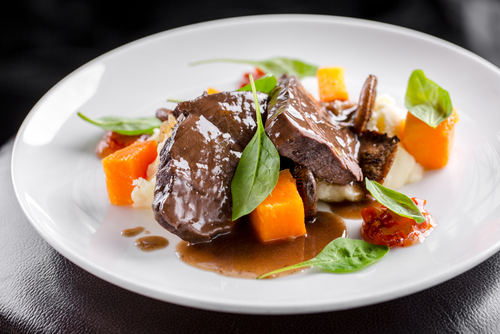 Did you know that chocolate is also used to prepare salty foods? The first to use cocoa as an ingredient in cooking were the Aztecs during the pre-Columbian era. Inspired by those flavors, today at Unareceta.com we invite you to make some cheeks of veal in chocolate sauce so that you can enjoy all your flavor with your own.
Eat them accompanied by a delicious mashed potatoes with cream and a chocolate coulant in the microwave for dessert, before which you can not resist. That said, let's fully exploit this food of the gods and let's cook these beef cheeks in chocolate sauce. They are delicious!
Ingredients

4 beef cheeks

4 cloves of garlic

     1 green pepper

     1 carrot

     1 onion

     1 leek

    

1 bay leaf



     40 gr. of dark chocolate (70% cocoa)

    

3 glasses of red wine



     1 glass of meat broth or water

     ½ cup flour

    

1/4 cup olive oil



    

Ground black pepper



    

1 tablespoon of black pepper in grains




     Salt
Preparation of beef cheeks in chocolate sauce
1-You'll start by cutting the cheeks into large pieces and sprinkling them. Spread the flour on a plate, sprinkle it on it and remove the excess by shaking it a little with your hands.
2-Heat the olive oil in a pan and put the cheeks to seal. Once they are browned, remove them to a plate and reserve. Do not overcook, the seal is so that they remain juicy inside.
3-Peel the onion, garlic and carrot and cut into small pieces. Do the same with the leek and pepper after washing them.
4-Put all the vegetables to poach with a pinch of salt in the same oil where you seam the cheeks on medium heat. After ten minutes add the cheeks, the bay leaf and stir to integrate.
5-Then pour the wine, the pepper in grains, take a couple of turns and when the alcohol evaporates, add the meat broth, the chopped chocolate and stir well to melt.
6-Cover, lower the temperature and cook for an hour and a half. Do not forget to stir every so often so that the chocolate does not go to the bottom and burn.
7-After the time, rectify the salt and check that your cheeks are soft. If they are already, remove from the heat, remove them to a plate and mash the vegetables with the blender until you obtain a homogeneous sauce, otherwise you can serve them with the vegetables as they are.
8-If the picante, return the sauce and the meat to the casserole, give them a boil and let rest for a few minutes before serving your beef cheeks in chocolate sauce. Take advantage!