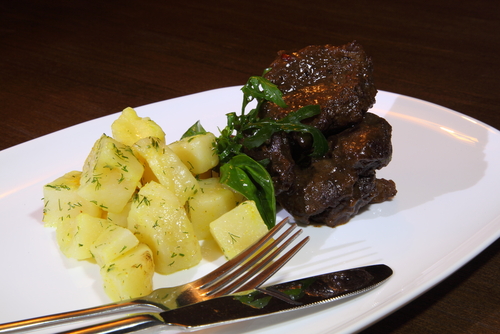 Recipe of pork cheeks in Porto sauce
Oporto, of Portuguese origin, is one of the oldest wines in Europe. Its characteristic sweetness and aroma make it an ideal drink not only to accompany desserts, but also as the main ingredient of recipes like this one  of pork cheeks in Port sauce that we propose today.
Do you want to surprise your guests with an unforgettable menu? Serve baked potatoes stuffed with ham as a garnish and an exquisite orange tiramisu for dessert. You will definitely have a meal at the height of any restaurant!
Prepare these delicious pork cheeks in port sauce with Unreceta.com and then tell us .Come on!
Ingredients
1 kg. of pork cheeks
2 purple onions
1 white onion
2 ripe tomatoes
1 red pepper
3 cloves of garlic
3 carrots
1 leek
2 glasses of Port Wine
2 glasses of meat broth
100 gr. of wheat flour
30 gr. of honey
¼ cup of olive oil
4 branches of fresh parsley
1 branch of rosemary
Ground black pepper
Salt
Preparation of pork cheeks in Porto sauce
When you buy the cheeks it is important that you ask the butcher to clean them, since you have to remove both the fat and the tendons. When you get home, salt and pepper and reserve.
While your meat is seasoning, peel the onions, the leeks, the garlic and cut them into squares. Wash the pepper and tomatoes, extract the seeds and cut them too. Peel the carrots, slice and reserve.
Spread the flour on a plate and cover the cheeks. Shake well to remove the excess. Add four tablespoons of olive oil in a pot and when hot put the cheeks to seal for four minutes on both sides, this way you will be juicy inside. Set aside a dish.
In the same pot, put the onion, the garlic, the pepper, the carrots, the leek, the tomatoes, the garlic and a sprig of rosemary for five minutes.
Then pour the Oporto, broth, cheeks, honey, a little salt and cook with the pot covered over low heat for two hours. Remove occasionally.
Once your rails are ready, remove them to a plate and pour the vegetables in a bowl to be able to beat them comfortably until you get a homogeneous sauce.
Return the sauce and the cheeks to the pot, give them a boil and get ready to enjoy some succulent pork cheeks in a Porto sauce decorated with parsley leaves.
If you have an express pot, in 25 minutes your meat will have softened.