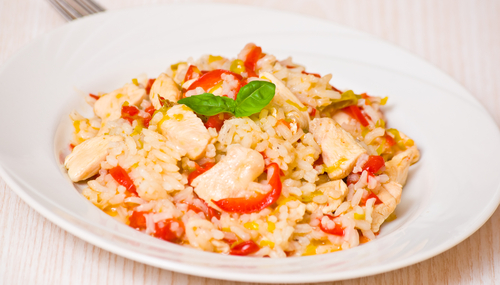 Recipe of rice with cod thermomix
When you have a kitchen assistant everything is easier and you can prepare delicious dishes in a few minutes. You will see!  
Ingredients
250 gr. of crumbled cod
400 gr. of rice round grain
2 cloves of garlic
2 onions
1/2 red pepper
1 grated tomato
2 bay leaves
1 tablespoon sweet paprika from the vera
800 ml. of fish stock
40 gr. Of olive oil
Salt
Ground black pepper
Preparation of rice with cod thermomix
You must desalinate the cod two days before the preparation. To do this, place the fish in a bowl with cold water and let it soak for 48 hours. Change it every eight hours. The day you go to prepare the rice, strain the cod and drain it in a colander.
While boiling the water, cut the onion, garlic and red pepper after removing the nuggets in very small squares. Add the olive oil, the onion and the garlic to the thermomix and program for ten seconds at speed 5. Integrate the pepper and re-program.
Lower the remains towards the blades and add the crumbled cod along with the bay leaves. Program the kitchen assistant for three minutes at varoma temperature, bucket speed and left turn. When there are 30 seconds left, add the sweet paprika.
Then add the fish stock and program the thermomix for five minutes, varoma temperature, spoon speed, left turn.
Now add the rice, tomato, salt and pepper to taste and program the robot for fifteen minutes, temperature of 100 ° C, speed spoon and turn to the left.
After the time, put the preparation on a platter and serve your rice with hot thermomix cod. Have you seen how easy it is? Take advantage!