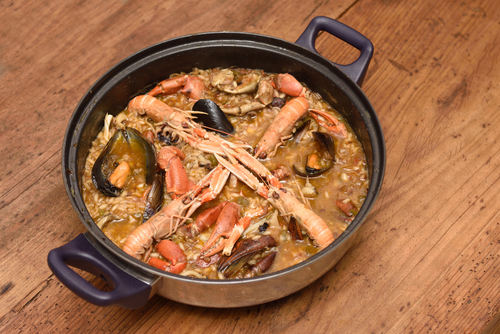 Recipe of rice with seafood
Do you like dishes with rice? If you like them as much as we do, you can not stop cooking this rice with seafood that today we propose in  Unreceta.com .
For you to be successful in the preparation, we suggest you always use round rice or pump, prepare a good stir-fry, measure the quantities well so that you always have enough broth and use a good fish stock or fish broth to fideuá . Either of these two options will give a unique flavor to your recipe.
Do you have everything ready to start? So let's not waste any more time and let's start cooking a rice with seafood with which you will be more than assured success.
Ingredients
300 gr. of round rice
1 liter of fish fumet
200 gr. in sepia
200 gr. of prawns
200 gr. of mussels
1 large onion
3 cloves of garlic
1 red pepper
1 green pepper
½ cup of fried tomato
1 tablespoon sweet paprika
1 tablespoon of dye or saffron
¼ cup of olive oil
Salt to taste
Preparation of broth rice with seafood
To start, you will peel the prawns, wash them with fresh water and put them to drain. Then cut the cuttlefish into small cubes. Wash also the mussels and reserve.
Cut the onion and garlic into squares after peeling. Wash the peppers, extract the seeds and cut the same size.
Add the olive oil in a casserole and put the onion to poach for a few minutes. When it softens, add the garlic, peppers, tomato, stir to integrate and cook for five minutes.
Then, add the sweet paprika, the dye, remove immediately and incorporate all the seafood with the exception of the mussels. Take a couple of turns so that the flavors are integrated and add the rice.
Then add the broth and salt to your liking, mix and cook for fifteen minutes. After the time incorporates the mussels and cooks for five minutes more. Cover and let stand for a few minutes before serving. And now that your seafood rice is ready to taste, we hope you enjoy it!