03 Abr

Recipe of salmon cake with sponge cake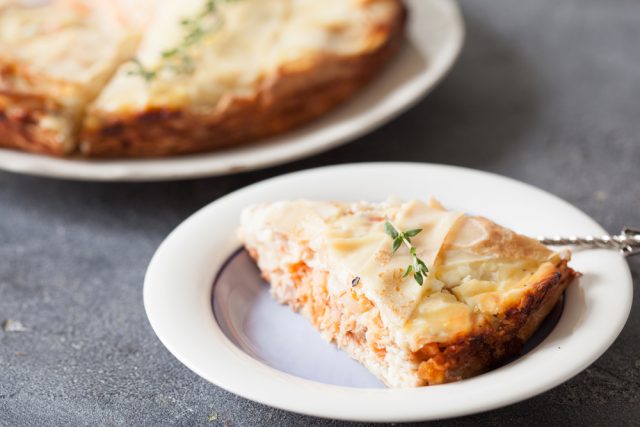 If you thought that the cake is reserved only for desserts, then you're wrong, with this cake of salmon with sponge cake we'll show you how well this combination of sweet and salty works. Do you dare to try it? Of course yes!
When you have guests at home and little time to cook, cold dishes are a practical solution and mayonnaise is the sauce that usually accompanies them. If you want to vary a bit, the recipe prepares a mayonnaise with curry or a mayonnaise with cheese. You will give a super personal touch to this dish and your guests will appreciate it!
Ingredients
2 cake bases for cakes
400 gr. of smoked salmon
1/2 cup of seedless olives
1/2 cup mayonnaise
1/2 onion
3 boiled eggs
2 cans of large tuna
1 lettuce
Ground black pepper
Preparation of salmon cake with sponge cake
1-To start preparing this delicious salmon cake, the first thing you have to do is put the eggs to cook; boil in a small pot for 12 minutes. When they are ready, remove them from the water and when they cool, remove the peel, separate the yolks from the whites, chop everything separately and reserve.
2-Wash the lettuce very well with a little white vinegar and drain it. When it is already dry, cut it into julienne, it will be the base of your filling. Peel the onion and cut it very small, do the same with the olives after slicing them.
3-Chop the smoked salmon but before booking a few slices to decorate. Once chopped, add it to a large bowl with the lettuce, tuna, onion, olives, chopped whites, 3 heaping tablespoons of mayonnaise and a pinch of black pepper. Remove to mix.
4-To assemble the cake, place the first base of the cake on a large round plate and cover with the filling. Then cover with the second sponge cake and cover the surface with a thin layer of mayonnaise.
5-Now your salmon cake with sponge cake is ready, you can decorate with the smoked salmon that you reserved and sprinkle the cooked egg yolks on top. Then take the refrigerator to cool until it's time to serve it, and now enjoy!