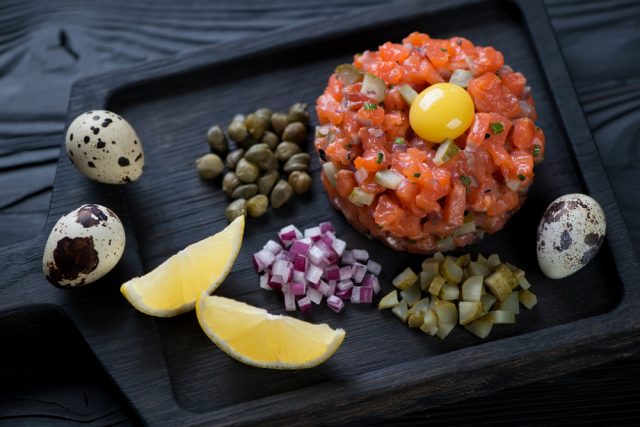 There are many ways to prepare a tartare, with meat, with fish, with vegetables and it is that with this dish creativity has no limits and the result always ends up being an explosion of flavors. Today at Unareceta.com, we invite you to prepare a simple but very tasty salmon tartar with mustard.
Mustard is an ingredient that gives an exceptional touch to the meals, if you like we are sure that you will delight with this roast beef in mustard sauce or with these ribs baked in mustard.
Are you ready to start? Well, let's go there with this salmon tartare with mustard!
Ingredients
500 gr. of fresh salmon
1/2 onion
1 lemon zest
2 tablespoons capers
3 gherkins in vinegar
2 tablespoons old-style mustard
1 tablespoon mayonnaise
5 anchovies (optional)
2 tablespoons of olive oil
2 teaspoons of soy sauce
2 branches of fresh parsley
2 branches of fresh dill
2 boiled and peeled quail eggs
Preparation of salmon tartar with mustard
1-Before preparing this dish you should know that when you buy the salmon you should freeze it for 24 to 48 hours. Then when you are going to prepare it, thaw it inside the refrigerator preferably about 3 hours before using it.
2-Then chop into very thin slices and spread it on a plate so that it is finished thawing. Dry well with an absorbent paper and cut into small blocks. Place in a bowl and reserve.
3-To prepare the dressing you should finely chop the onion, the capers and the pickles. Add to a bowl and add the olive oil, mayonnaise, soy sauce, mustard and juice of half a lemon. Mix until everything has been integrated.
4-Wash the parsley and cut finely, do the same with the dill. Reserve to decorate.
If you are going to include the anchovies in the recipe, also cut into small pieces and add the bowl with the salmon, add the lemon zest.
5-Next, add the dressing and stir carefully so that the salmon does not break. Refrigerate for a couple of hours before eating.
6-When presenting your salmon tartar with mustard you can use a plating ring and place on the surface half a quail egg per serving and sprinkle a little dill and parsley on top. Enjoy it!