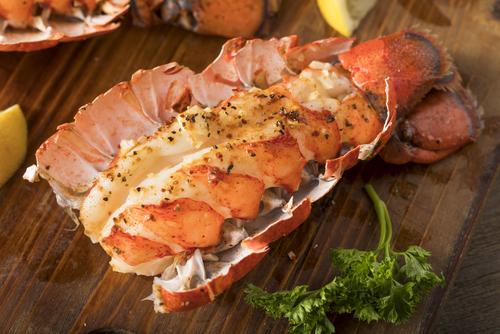 The crayfish are one of the best seafood there is and enjoy them is a pleasure. For this reason, in Unareceta.com we have prepared for you the step by step of the lobsters baked with white wine. Undoubtedly, one of the best recipes of this ingredient!
One of the main advantages of this food is that it is very versatile which allows you, in addition to making it in the oven or in sauce, that you can cook it and cook, for example, a delicious rice with chicken and prawns. As soon as you taste it, you will not leave the plate!
Having said that, ready to start with the baked lobsters with white wine? Let's go there!
Ingredients
1 kg. of scampi
1 lemon
1 clove garlic
Parsley
1/2 glass of white wine
Olive oil
Coarse salt
Preparation of baked lobster with white wine
1-Start by cleaning your crayfish and, as soon as you have them, dry them and open them in half with the help of a sharp knife. Simply cut the bark and separate both ends, the meat is not necessary for the cuts. Set to preheat the oven to 200ºC.
2-Now that you have the scampi, pass them to a dish suitable for baking and sprinkle them with a little lemon, but do not overdo it because we do not want your taste to be too noticeable. Let's make the sauce.
3-Cut the clove of garlic and parsley as small as possible and put them in a mortar. Take a splash of olive oil and wine and integrate everything until well blended. Cover the crayfish with this sauce, add a little coarse salt and put them in the oven.
4-After fifteen minutes, your baked lobsters with white wine will be ready! You will love it!