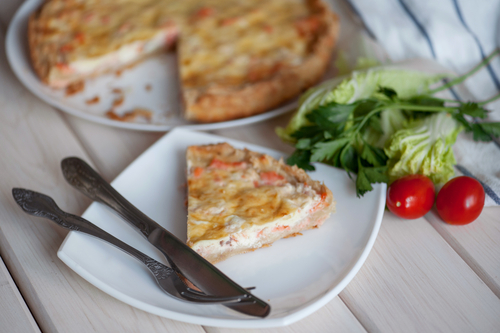 The smoked salmon cake with cheese is a delicious dish that young and old like and that can be eaten both at lunchtime with, for example, a carrot and leek cream or at dinner time as a main course.
This fish accepts a multitude of preparations but without a doubt, in addition to this, our favorites are the salmon tartar with mango and the quail eggs stuffed with salmon. In our recipe book you will find many more!
Ingredients
1 phyllo base
100 gr. of smoked salmon
250 ml. of liquid cream
1 curl of goat cheese
2 tablespoons of Philadelphia cheese
Salt
Ground black pepper
Preparation of smoked salmon cake with cheese
1-The first thing you have to do is put the Philadelphia cream and cheese in a pot over the fire. Add a little salt and black pepper and leave until it breaks to boil. You do not have to stop stirring.
2-Turn on the oven and preheat it to 220ºC.
3-Cut the 100 gr. of smoked salmon of the size you want but remember that the smaller they are, the easier they will spread throughout the cake. The goat cheese curl you have to cut it also sliced.
4-Take a baking dish and cover it with paper towels. Place the filo pastry base on top and cover it with the contents of the pot.
5-As soon as you have dumped all the sauce, add the smoked salmon that you have cut and move the tray a little so that all the salmon is well distributed. Put as much goat cheese on it as you want and, as soon as you have it, put the tray in the oven.
6-After ten minutes, your plate will be ready. Wait for it to cool and unmold it. You will see how good it is!