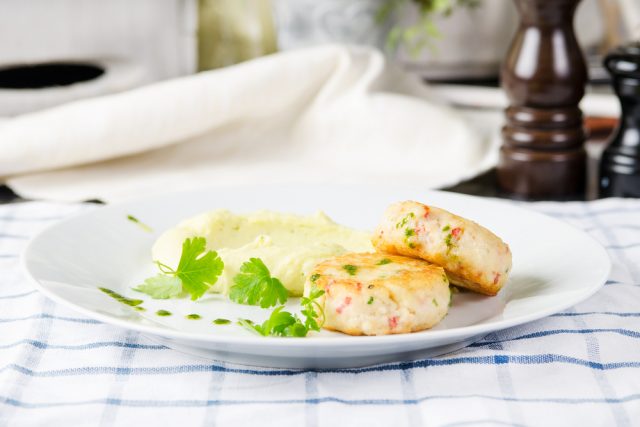 Do you need a luxury recipe that takes a short time to prepare and that you can keep in the fridge until it is time to consume it? Try then this recipe for salmon cake with avocado that, besides being rich, is suitable for coeliacs because it does not contain gluten.
If you like cold fish for special occasions, you can also prepare a salmon tartar with mango or a Japanese tuna tartar. They are very simple dishes but with an insurmountable flavor.
Run for a pen and write down all the ingredients you'll need to make this delicate salmon and avocado cake under the guidance of Unareceta.com. Let's go there!
Ingredients
400 gr. of sliced smoked salmon
3 avocados
1 ¼ cup Philadelphia cheese
1 1/3 cup of cream
5 sheets of neutral gelatin
½ cup of cold water
1 lemon
Freshly ground black pepper
Salt to taste
Preparation of salmon cake with avocado
1-To start preparing this salmon cake, the first thing you have to do is line the mold that you are going to use with transparent film, in this way it will be much easier to unmold the cake when it is time to do it.
2-Then, cover the bottom and walls with the salmon, so that there are no spaces left unfilled. Reservation.
3-Next, you have to hydrate the gelatin by placing them in a bowl with the cold water. Try not to mount one over the other and let them rest for 10 minutes.
4-To make the filling, peel the avocados and cut them. Cover them with lemon juice to prevent them from turning black and pour them into the glass of the blender or whisk together with the cream, the cheese, the black pepper, a pinch of salt and mash.
5-To dissolve the gelatin, heat it in the microwave for 40 seconds and stir well when you remove it. Let it cool for a few minutes and when it is warm add it to the mixture with the avocado.
6-Grind again to integrate the gelatin for a couple of minutes and then pour the filling into the mold with the salmon. Cover with a film and take to the refrigerator for several hours to set the filling.
7-When your salmon cake with avocado is ready, remove it from the refrigerator and unmold it on a tray. And to decorate it you can do it with a few slices of avocado, tomato or some herbs. Activate your creativity and you will see!