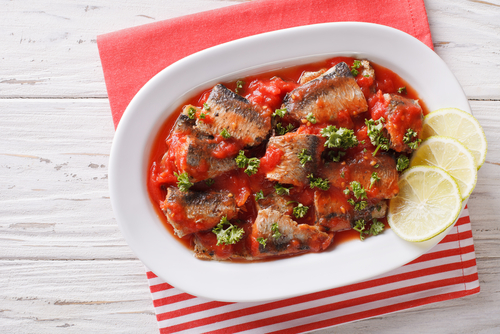 Tuna recipe with tomato thermomix
Are you obsessed with your kitchen robot? How not to be with everything that saves time and effort cooking in it! If you are looking for new options, we are sure that this tuna with tomato thermomix that we invite you to make at Unreceta.com  will leave you with your mouth open. Look nothing else it looks!
And while your thermomix works, you can also make a baked white rice as a garnish or a delicious salad of potato and avocado . It is a very easy to combine dish, check it yourself!
Write down everything you need to make a delicious tuna with tomato thermomix that you will soon repeat. You will see!
Ingredients
4 tuna loins
2 small onions
2 cloves of garlic
2 ¼ cups of mashed tomato
1 green pepper
1 spoon of sugar
1 tablespoon cornstarch
3 branches of fresh parsley
3 tablespoons olive oil
Black pepper
Salt
Preparation of tuna with thermomix
Before starting, dry the tuna with an absorbent paper, cut it in medium tacos with a sharp and salty knife.
Then peel the onion and garlic and cut into large pieces. Do the same with the pepper after washing it and extract the seeds.
Next, place onions, garlic and pepper in the thermomix cup and program four seconds at speed 4 to crush.
Lower the remains of the walls with the spatula, add the oil and sauté for ten minutes, at speed 1, at 100 ° of temperature.
When finished, add the cornstarch and dissolve for a minute, at 100 ° of temperature and speed 2, so you will give a bit of body to the sauce.
Then add the crushed tomato, sugar, salt and pepper to taste and cook for fifteen minutes at the same temperature.
Now, you are going to place the butterfly on the blades, add the fish tacos and cook for five minutes at 100 ° of temperature, turn to the left, speed bucket.
Let your tuna with thermomix tomato sit for a few minutes before serving, chop the parsley finely and sprinkle each portion with a little. And now, to enjoy it. Take advantage!