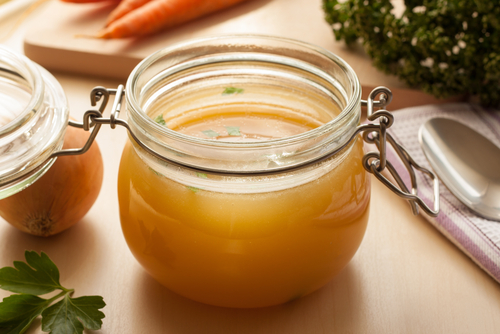 Vegetable consomme recipe for diet
This consomme of vegetables for diet is the ideal dish for vegetarians and vegans, since it does not contain any type of animal protein. It is also an excellent option for those who are trying to eat healthier for its cleansing and digestive qualities.
Ingredients
1 leek
1 onion
1 clove of garlic
2 carrots
2 branches of celery
1 green pepper
¼ cabbage (optional)
1 tablespoon of olive oil
1 bunch of parsley
6 grains of black pepper
Salt
Preparation of vegetable bouillon for diet
To prepare the consommé, the first thing to do is peel the onion and chop it into small pieces, do the same with the garlic clove.
Then wash the leek, separate the white part and cut it into slices. Wash also the branches of celery, separate the leaves and chop the stem in squares. Chop the pepper also after washing and extract the seeds.
Wash the carrots, peel them and cut them into thin slices. Wash the parsley, remove the stems and cut the leaves finely.
If you are going to use the cabbage, cut it into thin strips and then wash it with the help of a colander.
Add the olive oil in a pan and when hot put the onion to poach with a pinch of salt. Once it is transparent add the leek, carrots and pepper, mix and fry for 5 minutes over medium heat.
Then add the water so that it doubles the amount of vegetables, cabbage, garlic clove, parsley, salt to taste and medium-high game cooking until it boils.
When it breaks to boil the consommé, lower the flame, cover and cook for 45 minutes. Remove from the fire and when it is tempered, strain it with a fine sieve and it will be ready.
Take your consomme of vegetables for a very hot diet and accompanied by a few leaves of parsley or cilantro to give it a special touch. Enjoy it!